Kyle and I celebrated two years of marriage last week. This made me reflect on the foundation of marriage, and what we have learned from this time. By no means have we become experts, but I like to think from time to time we do something right.
One thing Kyle has taught me is to not judge by appearance. So many people appear to have perfect marriages from the looks of it. It's deceitful. Then again, why would we showcase the negative, as if it's something to show off. Let it be known though, (I speak for just us, but I'm certain most agree) that we have a less than perfect marriage.
We have fought. We have cried. Mistakes abound. But we are also truly happy.
Here are some of our lessons learned:
1. Your words dictate EVERYTHING. The way you speak to one another is a vicious cycle. For us, Kyle will say, well you spoke this way, so I started to treat you this way, and I'll say, well you treated me this way, so I spoke to you this way. WRONG. You cannot get rid of darkness with more darkness. There must be light.
Proverbs 15:1 sheds beautiful wisdom on this: "A gentle answer turns away wrath, but a harsh word stirs up anger."
2. Recognize that I am my biggest enemy. We spend much of the time ignoring our faults in marriage, because we are too angry and busy noticing our spouse's. When you do find what it is that you do wrong, and honestly get with yourself to fix it, it is again-another cycle. Humans are re-acting creatures. We act because someone acted towards us. When we fix our own problem, it blesses your spouses, and us as well, because your attitude toward him will dictate his attitude toward you.
3. Learn to argue. Marriages end up in divorce, undoubtedly because they didn't learn how to argue. Arguing is a part of marriage. No two different beings, with different backgrounds and brains will always agree. I say marriages end because of poor arguing, because while there are wrongs like infidelity and finance issues, amongst others, all of those end up in arguments. Our solution is to find a way, in the midst of your anger, to argue civilly. For me, I literally will run and lock myself away in the bathroom and pray for two seconds. "God, help me to not sin in my anger. Help me to see him like you see him." This helps me because, one, I take the focus off myself, which gives me time to think more clearly, and two, because it makes me remember that ultimately, it is God who I need to please. I once heard of a couple who when they argue, they hold hands and look into each other's eyes. Whatever it is, find something to calm your anger, then speak with common sense, as if what you are saying was being said to you.
4. Give a little. Goodness gracious, what would it be like if we held each other to a standard of grace and not perfection? It's easy to expect. I am guilty as charged. At the minimum, we expect that our spouse would do for us, the same amount that we would do for them. But if when we are disappointed, whether rightly so or not, we take a moment to place our mind and heart in a graceful attitude, we may just avoid an argument, raising our own blood pressure, and extending a little of the grace that is so generously given to us. I mean, how good does it feel to get caught speeding and being told, "I'll let you go this time." Darn good. Can we just "let it go this time?" I think a lot of times we can. And to go a step further, sometimes, when choosing to let it go, you don't even have to tell your spouse, it's just out of the goodness of your heart. For instance, Kyle will leave a pile of dirty clothes on the floor. Two options: get mad and rightly tell him so, or pick it up and never say a word about it. Of course if it's something that happens frequently, then you should discuss, but for that time, I can just give a little grace, and be happy.
5. Make memories. We are our own family now. What we create now is going to pass on to generations. It's important. I like the thought of making our own traditions. Silly things like going on walks on Wednesday nights, or cooking together on Saturdays. Whatever little thing, as insignificant as it may be now, just may be the glue that holds on in years to come. It may be what your grandkids do with their spouse one day. Or it may be what you look back on ten years from now and realize how much you cherish that intentional time. Make a big deal of your life together. It's really a once in a lifetime thing. Whether you're going to get groceries or a new car, realize what a gif it is, that of all the things in the world that could be happening to you, of all the places you could have ended up in, you are SO blessed, that ended up with this one person to love. It's worth all the effort, and it's something to protect. We say, take pictures, and laugh, because "the trouble is, you think you have time."
***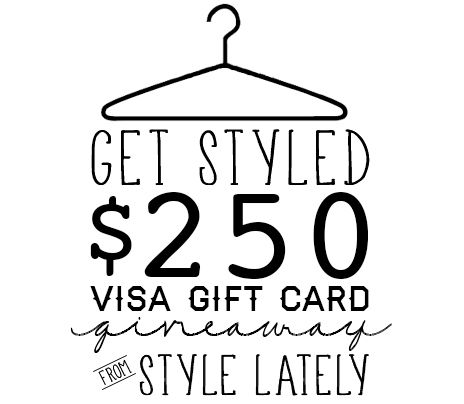 I've teamed up with Style Lately and a group of awesome bloggers to help you expand that wardrobe of yours. One lucky reader will have the chance to enjoy a $250 visa gift card to get styled. To enter, simply use the Rafflecopter below
t
o complete all of the mandatory entries for your chance to win

. The $250 Get Styled Giveaway will run until midnight ofWednesday, May 7th, and it is open to

participants worldwide

. The winner will be announced and contacted via email.
So, now all you have to do is enter, go meet these fun bloggers and start thinking about how you'd spend $250...



The Get Styled Giveaway is for one USD $250 Visa Gift Card. This giveaway is open internationally to people 18 years and older. The giveaway will run from Wednesday May 1st, 2013 12:01 AM to Wednesday May 7th, 2013 11:59 PM. ALL mandatory entries must be completed in order to win, including the winning entry. ALL entries WILL be verified, so please be honest in completing the entries. The winner will be announced on this Rafflecopter after the winner's entries are verified and the winner is contacted via email. To claim your prize, please respond to the email within 24 hours, failure to do so will result in a re-draw. Once the winner has been selected, the decision is final. This giveaway is not affiliated with Visa, Facebook, Bloglovin, Google, Twitter, Instagram, Pinterest, or any other social media platform. Bloggers in this group giveaway and their immediate family members in their household cannot win the giveaway.