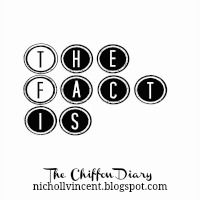 Fact: I find it so awkward that American's Next Top Model is still on TV. Tyra, GO AWAY already. No idea is cool after 16 years.
Fact: I go by Lindor chocolate every time I go to the mall (like...twice a week..) and the employees always give me a complimentary orange truffle. Don't focus on the frequent mall visits, or the abhorrent chocolate eating. Focus on the free orange truffle that make my day.
Fact: I am at my finest procrastinating hour once again, and decided one minute ago that I wanted a Halloween costume. Which at this point is probably not going to happen. Lest I take my husband's idea and be the Dwayne to his Lebron. Eh.
Fact: I think this deserves a post in itself. What is not pictured here is my ridiculous full of joy and pride smile. I have cooked every.single.day for two weeks. This is like...bigger than life in my accomplishment schedule. Some of you who cook breakfast, lunch and dinner are puking, I know it.
Fact: A friend and I showed up at a work meeting an hour late..this is a work meeting that was supposed to last an hour and a half. It was a fine thing to do, ya know..in front of 50 or so people..hold the applause. We still got free lunch, which was the reason we were going anyway. Now applaud.
Fact: Must my dog decide to drop an accident every time a guest is over? Yes, he must.
Fact: Sitting on the floor at a Thai restaurant is a lot less glamourous than it looks on movies. Butt cramping that I will not go into.
Fact: Going to the Pumpkin Patch had opposite effects on Kyle and me. For Kyle, seeing all the kids happily running around made his heart a love puddle that proceeded to say "I can't wait to bring our kids to the pumpkin patch one day." For me, the sweaty moms chasing screaming offspring made me lift up a prayer for sleepy kiddos and a bottle of wine. Cringgggeeee.
Fact: This is my favorite thing to write all week because it allows me to expand on all the inelegant in the world. Thank you for reading.