Fact: I jus got back from Memphis and I'm feeling like packing up my stuff and going right back. It was a nice 60 degrees..that's all I really need to touch on.
Fact: Crying on a plane while reading a really sad part of a book is..it's just okay.
Fact: Watching all seasons of Prison Break a third time through.
Fact: Every good Fall show comes on next week. By every I mean Grey's Anatomy and Revenge. So excited.
Fact: Feeling like I'm already behind on Christmas stuff. Why does America rush into everything? Why do I rush in to everything?
Fact: I am beyond sick of ignorant political discussions/rude comments via social media. Get. A. Life.
Fact: Being grumpy this morning because my husband did not let me sleep. He has a tooth ache, and he thinks ice apparently can heal all problems, including indigestion. So, in the middle of the night he is pacing around with a plastic bottle full of ice banging them like maracas. HAPPINESS.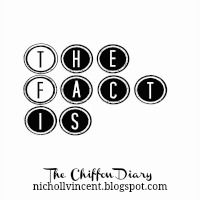 Y'all have a wonderful day!