Another week of facts, make sure you link up and make plans to do this weekly! It's really a fun way to share you weekly facts!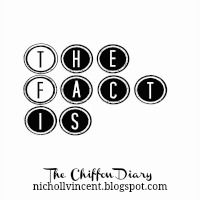 Fact: I have been considering coloring my hair for months but can't come around to doing it because I hate it when people change their hair. It throws me off. Clearly I have irrational fears.
Fact: I want to wear boots every single day of my life. I should be an Eskimo.
Fact: My puppy has become my other half. Waking up cuddled up to the tiny curled tailed thing makes me awfully happy.
Fact: I haven't been to a cold place, nor worn a coat in over a year. I want to bury my face in snow.
Fact: I feel the overwhelming need to be alone with a mug of hot chocolate and a good cry. For no good reason other than to feel like the girl on The Holiday.
Fact: Emailing someone and addressing them by their blog name thinking it's their real name is really fun when they sign their email in ALL CAPS as if to grab your attention.
Fact: I finally had Serendipity's frozen hot chocolate, and yes, it was good, but really...I paid $15 for a glass of chocolate milk blended with ice. It was on my bucket list though, so whatever...